With Decowall line you can realize decorated walls, outer claddings of vertical walls and a stamped wall of real schenographic and realistic effect.
Application of stamped walls allows to reduce times of production, to reduce costs and to have a transpirant wall as regards a wall stamped with traditional systems.
USE
Level reached by this system is very high, so as to make identification of a cladding made by Decowall from a traditional one is very difficult.
Its uses are practically infinite: traditional houses, old farmhouses, apartment buildings, public places, all districts!
It is very good both for outer and  inner spaces. The particular cement mortar used for stamped walls is easy to be worked  as it can be impressed through specific rubber mats which give the choosen decoration.
EFFECT
With mats, materials and technology Stone International, leading company in this sector, makes available to applicators, it is possible to practically reproduce any cladding with a so real final effect you will find it hard to believe in your eyes.
If you choose a line like Decowall's you will have a very wide range at your choice with further chance of customization. Stone-effect wall and other effects can be customized according to customer's needs.
ADVANTAGES
Walls realized with Decowall ensure a very high transpiration and water-proofing. Furthermore, they are resistant to UV rays and give to rooms a unique decorative effect.
Moreover, these features are combined with a very low realization cost than traditional systems' one.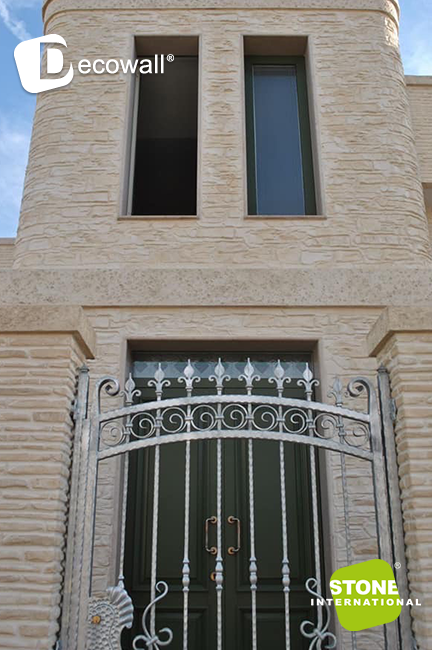 Decowall is available in many different colours.
DECOWALL's Products
Stamped stone walls are considered a decorative element with a very high aesthetic effect. They will be considered added value for your home.
Decowall – the stamped wall  – vertical devolution! Our technical assistance is at your availability for any need.